This is one of the many versions of Arroz con leche...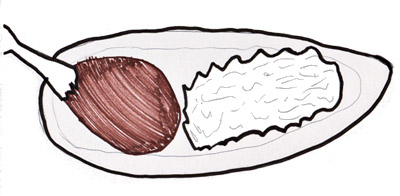 Arroz con pollo
Chicken and Rice
Canción infantil
Children's Song
Arroz con pollo,
Me quiero casar,
Con una viudita
De la Capital.

Que sepa coser,
Que sepa bordar,
Que ponga la mesa
En su santo lugar.

Yo soy la viudita,
La hija del rey,
Me quiero casar
Y no hallo con quien.

¿Contigo sí? ¿Contigo no?
Contigo mi vida me casaré yo.
Chicken and rice
I want to get married
To a little widow
From the capital.

Who knows how to sew,
Who knows how to embroider,
Who puts the table
In its divine place.

I'm the little widow
The king's daughter,
I want to get married
And I can't figure out with whom.

With you yes, with you no,
With you my love, I will get married.

Many thanks to Monique Palomares for singing this song for us.
Many thanks to Susan Pomerantz for playing this tune on piano.
Thanks and Acknowledgements
Many thanks to Katherine Smith for contributing this song. Translated by Monique Palomares and Lisa Yannucci.

Thanks to Lila Pomerantz for the drawing!
¡Muchas gracias!