Cicak - Cicak Di Dinding
Lizard, Lizard on the Wall
Children's Song
Children's Song
(Bahasa Indonesia)
(English)
Cicak, cicak di dinding
diam-diam merayap,
datang seekor nyamuk
hap.....lalu ditangkap
Lizard, lizard on the wall
Quietly walk on the wall
Here comes Mr. Mosquito
Hup......grab into his mouth… Hap!
Notes
Here's a translation by Harri Saptadi (with some minor changes by Mama Lisa)…

House-Lizard

House-lizard on the wall
Sneakily crawling,
Comes a mosquito…
Zap! Then it's caught.

Here's a translation by Yusi Meinzen (with some minor changes by Mama Lisa)…

LIZARD, LIZARD On The WALL

Lizard lizard on the wall
Slowly and quietly crawling
Here came close a mosquito
Glup...... he caught and ate him.


Comments
Mama Sheby wrote, "After visiting your site, just reminded me of an old song that now is a fave song of my 2 y o daughter, Jehan. The version of this song is similar to Lizard on the Wall (USA). I'm not sure about the concise translation, but I'm trying to be precise."

Yusi wrote: "Saya harap mama Lisa tidak lupa lagu ini, karena ini lagu favorit saya pada masa kanak2 dan sekarang menjadi lagu favorit anak saya Rosie. -Yusi Meinzen"

Quick English Translation of Yusi's comment: "I hoped Mama Lisa did not forget this song, because this was my favourite song in childhood and now it became my child Rosie's favorite."

Many thanks to Michelle and Liliana for the mp3 and YouTube.
Many thanks to Innosanto Nagara for the 2nd mp3.

Sheet Music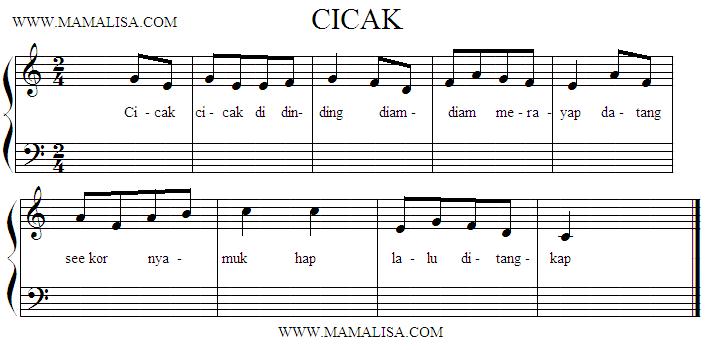 Thanks and Acknowledgements
Many thanks to Mama Sheby, Jehan, Ani, Yusi Meinzen and Harri Saptadi for contributing this song. Thanks to Mama Sheby and Harri Saptadi for the translations and to Harri for the score.

Many thanks to Innosanto Nagara, and Michelle and Liliana for videotaping this song for us!
Terima kasih banyak!