Children's Song
Children's Song
Bak postacı geliyor
Selam veriyor
Herkes ona bakıyor merak ediyor.

"Çok teşekkür ederim postacı sana
Çok sevinçli haberler getirdin bana"

"Bugün yanlız bukadar
Darılmayınız
Yarın yine gelirim
Hoşça kalınız."

"Haydi git güle güle
Uğurlar olsun
Ellerin dert görmesin
Kısmetle dolsun".
Look, the mailman's coming,
He's greeting us.
Everybody looks at him eagerly.

"Thank you very much, Mr. Mailman,
You brought me good news!"

"This is all I have today,
Don't be sorry,
Tomorrow I'll be back,
Goodbye!"

"Come on, goodbye,
Have a nice ride,
And very good
Luck to you!"*
Notes
* Ayşe said that there are many ways to say "Good luck", this one means literally: "May your hands not see problems and be full of good things".

Sheet Music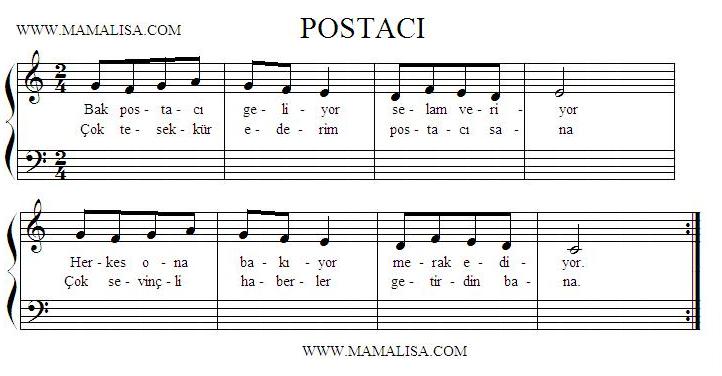 Thanks and Acknowledgements
Many thanks to Monique Palomares' Turkish student ladies for recording this song and to Ayşe Alıcı for translating it into French.
Çok teşekkür ederim!