Tengo una muñequita
I Have a Little Doll
Canción infantil
Children's Song
Tengo una muñequita vestida de azul
Zapatitos blancos, camisón de tul
La llevé a paseo y se me enfermó
La tengo en la cama con mucho dolor
Dos y dos son cuatro y cuatro y dos son seis
seis y dos son ocho y ocho diez y seis.
I have a little doll all dressed in blue
Little white shoes, shirt of tulle
I took her for a stroll, and she got sick
I have her in bed with much pain
Two and two are four and four and two are six
Six and two are eight and eight are sixteen.
Comments
Mia Burgos wrote me: "Here is a little song that I know… my family is from Mexico, but I think that they sing this in El Salvador and other places too. The melody is the same as Brinca la Tablita."

If anyone knows a different version of this song from El Salvador, please let me know by email. Thanks! -Mama Lisa

Many thanks to Monique Palomares for singing this song for Mama Lisa's World! Monique sang the version of this song from Spain. It's called Tengo una muñeca.
Sheet Music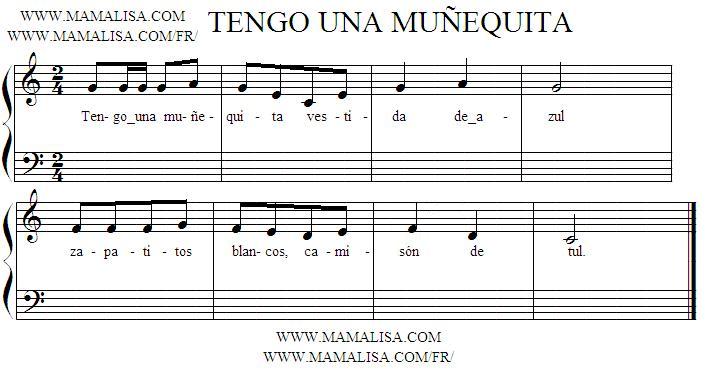 Thanks and Acknowledgements
Many thanks to Mia Burgos for contributing and translating this song.
¡Muchas gracias!