Peri wrote, "I grew up in the 80's and 90's in Taipei, Taiwan, and we all used to sing this song in classes, and on the playground in pre-school, and lower school. It is sung to the tune of Frère Jacques. There are variations of the song using different facial features, like ears or nose."
Children's Song
Children's Song
两只老虎,
两只老虎,
跑得快,
跑得快,
一只没有眼睛,
一只没有尾巴,
真奇怪,
真奇怪。
Two tigers,
Two tigers,
Run so fast,
Run so fast.
One has no eyes,
One has no mouth.
So strange!
So strange!
Notes
Transliteration

liang zhi lao hu,
liang zhi lao hu
pao de kuai,
pao de kuai
yi zhi mei you yan jing
yi zhi mei you zui ba
hao qi guai!
hao qi guai!

Raymond Lee sent me the following translation of a slightly different version of this song...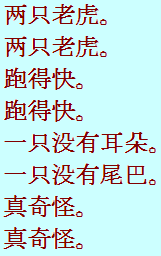 Translation

Two Tigers
Two tigers, two tigers
Run so fast, run so fast
One has no ears
One has no tail
So strange! So strange!

Here's the traditional Chinese text of the 2nd version:




This song is also sung in China.
Comments
The Simplified Chinese Text in computer format (we apologize if it doesn't display properly on your screen):

First Version

两只老虎

两只老虎。
两只老虎。
跑得快。
跑得快。
一只没有眼睛。
一只没有嘴巴。
好奇怪。
好奇怪。

Second Version

两只老虎

两只老虎。
两只老虎。
跑得快。
跑得快。
一只没有耳朵。
一只没有尾巴。
真奇怪。
真奇怪。


Many thanks to Yi Lin for singing this song in Mandarin for Mama Lisa's World!
Sheet Music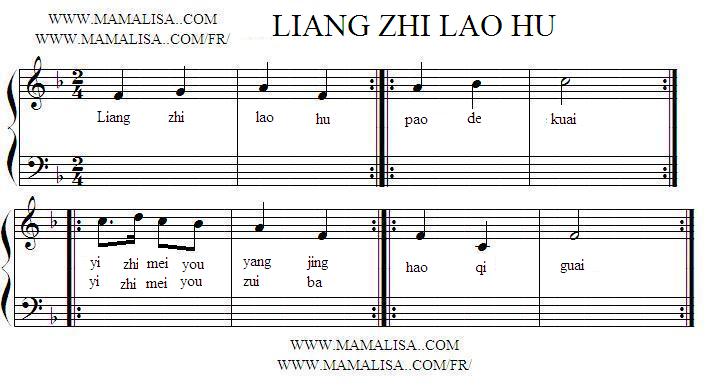 Thanks and Acknowledgements
Many thanks to Peri Pipkin for contributing and translating this song. Thanks also to Ray Lee for the second translation.
M goi! & Xie xie!