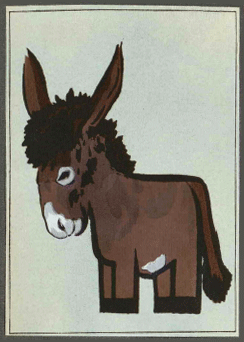 I Have a Small Donkey
Children's Song
Children's Song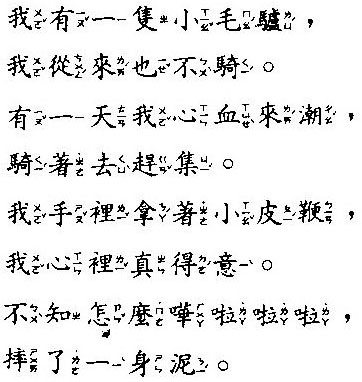 I have a small donkey,
Which I never ride.
One day I feel like riding it,
So I ride it to a fair.
I have a small whip in hand,
And I am enjoying the ride.
Then I don't know what happened,
I fell off it and got very muddy.
Notes
Chinese Text:

我有一头小毛驴,我从来也不骑。
有一天我心血来潮,骑着去赶集。
我手里拿着小皮鞭,心里正得意。
不知怎么哗啦啦啦摔了我一身泥。

Pinyin Pronunciation

wo you yi zhi xiao mao lu.
wo cong lai ye bu qi.
you yi tian. wo xing xue lai chao.
qi zhe qu gan ji.
wo shou li na zhe xiao pi bian.
wo xing li zheng de yi.
bu zhi zenme hua la la.
shuai le yi sheng ni.

This song is also sung in China.
Comments
Ray wrote that the text "...is written in Chinese. In particular it was written in the traditional (as opposed to the simplified) Chinese. Since it is written down, one can't really say if it's Mandarin or Cantonese - the only difference is the pronunciation of the characters."

Many thanks to Fang Xiao Yan for singing this song for us.
Many thanks to Yi Lin for the 2nd recording, for reciting the song in Mandarin.
Thanks and Acknowledgements
Many thanks to Raymond Lee (Lay Wai Jing) for the translation and to James Yannucci for the Pinyin.

The image is from "Grosses bêtes & petites bêtes", images and text by André-Hellé (Paris, 1912), with a little graphical editing by Mama Lisa Yannucci.
M goi! & Xie xie!