This song is also sung in China.

A Trishaw
Children's Song
Children's Song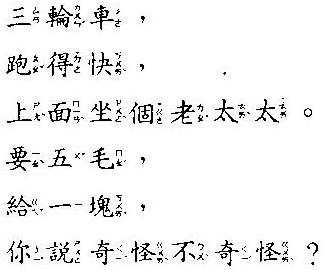 A trishaw*,
Is running fast,
And it's carrying an old lady
Driver wants 50 cents
She pays 1 dollar
Do you think it's strange or not?
Notes
*A trishaw is a three wheeled bicycle with seating in the back for one or two people. People pay the "driver" to ride them around. These are still seen on the streets of China.

Here's the Pinyin pronunciation for this song:

San lun che.
Pao de kuai.
Shang mian zuo ge lao tai tai.
Yao wu mao. gei yi kuai.
Ni shuo qi guai bu qi guai.
Comments
Raymond wrote about the use of trishaws in Hong Kong and Macau, "I remember riding them when I was very young, during my first few trips to Macau. Of course, we would just take a cab to get from point A to point B. We rode the trishaw for the novelty of it. I remember getting a big kick out of it!

By the time I was born, there were no more trishaws in Hong Kong. Rickshaws, on the other hand, survived. (A rickshaw is a cart with seating for one to two people that is pulled by a man.) As you can imagine, rickshaws got most of their business from tourists (same way we rode the trishaws when we visited Macau). Rickshaws were around even in the 80's. I think they were around even when I went back to Hong Kong in 1996. When I went there in 2003, however, they were gone."

My cousin James Yannucci, who lives in China, said that Trishaws could still be seen in the streets of China as of 2006.

Many thanks to Yi Lin for reciting this song in Mandarin Chinese.
Thanks and Acknowledgements
Many thanks to Raymond Lee (Lay Wai Jing), Yi Lin and Céline Vermande for translating this song. Thanks also to James Yannucci for the Pinyin version.
M goi! & Xie xie!