Nyuszi ül a fűben
The Rabbit is Sitting in the Grass
Children's Song
Children's Song
Nyuszi ül a fűben,
ülve szundikálva.
Nyuszi talán beteg vagy,
hogy már nem is ugorhatsz?
Nyuszi hopp! Nyuszi hopp!
Máris egyet elkapott.
The rabbit is sitting in the grass,
Dozing, sitting.
Rabbit, are you perhaps ill,
That you can't even jump?
Rabbit oops! Rabbit oops!
It has already caught one.
Game Instructions
The children walk in a circle hand in hand. The "rabbit" is crouching inside of the circle, imitating the rabbit's ears with his/her hands. At the end of the song the "rabbit" jumps up to somebody, who will become the next "rabbit".


Sheet Music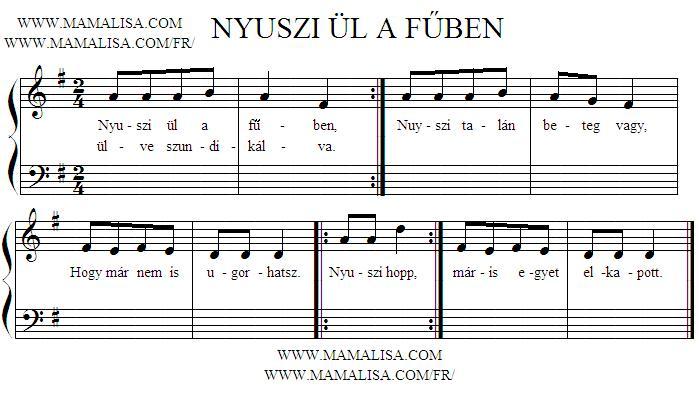 Thanks and Acknowledgements
Many thanks to Zsofia Valentin for contributing this song, the English translation, score and the game instructions. Thanks also to Monique Palomares for the midi music.
Köszönöm szépen!