October 18th, 2011

We asked people how they say Murphy's Law in other languages.  Murphy's Law is the saying, "Anything that can go wrong, will go wrong".  Marina wrote from Russia, "…in my country Murphy's Law has the same name [and is also called] the Law of Meanness, or the law of bread and butter (if it's falling, the butter is below)." 
I think in English we would say, "The Law of Buttered Bread Always Falling Buttered Side Down."  That's how I came up with this doodle. -Mama Lisa
Murphy's Law in Russia…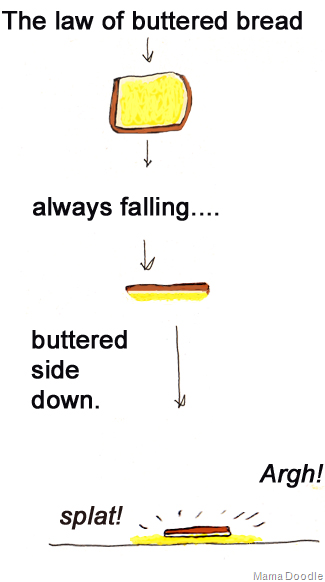 This artilce was posted on Tuesday, October 18th, 2011 at 3:30 pm and is filed under Arts and Crafts, Countries & Cultures, Mama Doodles, Mama Lisa, Murphy's Law, Russia, Russian, Words & Phrases. You can follow any responses to this entry through the RSS 2.0 feed. You can leave a response, or trackback from your own site.
One Response to "Murphy's Law in Russia: The Law of Buttered Bread"
Amanda Says:
November 5th, 2011 at 7:48 pm

There's a joke to that bread and butter murphy's law in Brazil, that you say the best solution is to tie a cat to the back of the bread (LOL) since cats always fall with the paws in the ground.

It could happen that both the cat and the bread would float! :P

Anyways, your blog is great, full of cool stuff and if you havent' found the butcher boy song (that's how i came to your blog, in first place) here 's a link for the youtube version: http://www.youtube.com/watch?v=vGxUj_OSuh4

Thanks and have a good Sunday!
Amanda
Leave a Reply