March 5th, 2010
Jesse Catano wrote:
Hello,

Was wondering if you could help me, was wondering if any chance you knew of a song, it was one my dad use to sing to me when i was little. My dad is from united states, but perhaps he learned it from his father who was raised in Mexico. I want to find this song so now once my child is born I can sing it to her. I do not remember whole song or exact words I cant spell spanish too well so i will say it in english, it was about a fish and went like this. "The fish asked his mom if he could go outside to play, but she said no, but he went outside anyways and got caught by a mean man. Spanish its like "el pescado salio, el salio a huga, vino un mucacho malo, e vino a matar. Something like that in spanish – told you spelling not the best. Hope you could make it out. If this sounds familiar please let me know. Thank You.
Monique from the Spanish version of Mama Lisa's World wrote out the Spanish part given above in Spanish with accents:
El pescado salió
él salió a jugar,
vino un muchacho malo
y lo vino a matar.
Monique wrote: "Normally in Spanish, a live fish is 'un pez'. 'Un pescado' (literally meaning 'a fished one') is a caught fish – usually dead! But maybe in some places, any fish whether caught, or alive and free, is 'un pescado'."
If anyone can help with this song, please let us know in the comments below.
Thanks!
Mama Lisa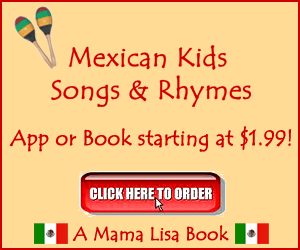 This artilce was posted on Friday, March 5th, 2010 at 5:35 pm and is filed under Children's Songs, Countries & Cultures, Languages, Mama Lisa, Mexican Children's Songs, Mexico, Questions, Readers Questions, Spain, Spanish, Spanish Kids Songs, USA. You can follow any responses to this entry through the RSS 2.0 feed. You can leave a response, or trackback from your own site.
4 Responses to "Can Anyone help with a Spanish Song about a Fish Going Out to Play?"
Leave a Reply