Festival of Women in Italy – La Festa della Donna
March 6th, 2010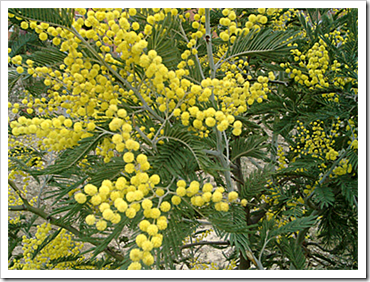 Emanuela Marsura, an Italian schoolteacher, pointed out that March 8th is the Feast of Women, or Women's Day, in Italy.  It's called "la Festa della Donna" in Italian. 
Originally, it was a recognition of the social achievements, and the political and economic conditions of women.  It has its roots in the US suffrage movement over a century ago.
Nowadays, the main tradition in Italy is for men give the women in their lives a branch or sprig of yellow mimosa flowers.  Sometimes the mimosa will be with other flowers like yellow daffodils or other bulbs. People also serve yellow sweets, including a mimosa cake.
Photo from Wikipedia
5 Responses to "Festival of Women in Italy – La Festa della Donna"
Leave a Reply