This One, The Beautiful Eye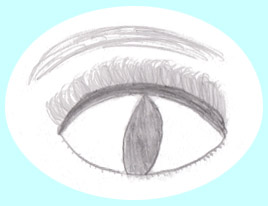 Questo l'occhio bello
Questo suo fratello
Questa la chiesina
Questa la campanilina
din din din.
Actions

Point to one eye
Point to the other
Point to the mouth
Point to the nose
Hold nose and move from side to side.

This one, the beautiful eye,
This one, its brother,
This one, the little church,
This one, the tiny little bell,
Din, din, din.
Thanks and Acknowledgements
Many thanks to Lisa Meier for contributing this song. Thanks to Melisa Roche for the drawing!
Grazie mille!