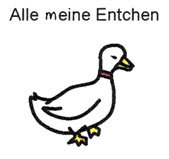 Alle meine Entchen schwimmen auf dem See,
schwimmen auf dem See,
Köpfchen in das Wasser,
Schwänzchen in die Höh.

Alle meine Täubchen
Sitzen auf dem Dach,
Sitzen auf dem Dach;
Klipper, klapper, klapp, klapp,
Fliegen übers Dach.

All my ducklings are swimming on the lake,
Swimming on the lake,
Their little heads dip into the water,
Their little tails stick out.

All my little doves,
Settle on the roof,
Settle on the roof,
Clipper, clapper, clap, clap,
Fly over the roof.
Notes
Here's an alternate translation of the 1st verse by Lisa in Australia:

All my ducklings
Swimming on the lake
Swimming on the lake
Heads in the water
Tails in the air (up high).

Thanks and Acknowledgements
Many thanks to INTER-COM Translations for contributing and translating the first verse of this song, to Ulrike Bernhard for contributing the second verse, to Maguy Cabrol and Monique Palomares for the translation of the second verse, and to Monique Palomares for creating the midi music. Many thanks to Lisa Stephan from the German Australian Playschool in Canberra, Australia, for the picture and the alternate translation of the first verse.
Vielen Dank!