When people wrote with pens dipped in ink…
March 29th, 2011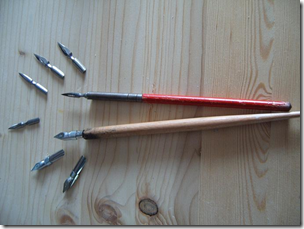 A while back, Monique Palomares told me how she went to see a show held by a scribe museum in France about the old pens that used to be used in school.  She remembers using them!  Here's what she wrote about it…
The show reminded me of when I was a child and someone would bring a brand-new dip pen with a sort of small hole to look through in the handle.  It would have a tiny magnifying glass inside and when you put your eye up to it you could see some monument – like the Eiffel Tower, if it was from Paris, or Notre Dame de la Garde if it was from Marseilles, etc. 

Our regular pens had a simple wooden holder. I loved writing with a dip pen once I was no longer obliged to. When I was a child it was quite another story: we would blot our notebooks, sometimes we'd pierce them, our fingers were usually stained in violet.  We would write with violet ink while the teacher would correct with red ink.  There was often gook in our pots of ink, such as tiny bits of thread or wool from our clothes and they would make messy blots when we wrote. Sometimes someone would put a small piece of chalk in the pot and it was a mess.

When a page of our notebook was blotted/dirty, the teacher would tear it off and we'd need to write everything again. Later there was a wonderful product called "Corrector" – I suppose it was the brand name. There were two little bottles, one with reddish liquid that you'd smear with a sort of pipe on the blots, then you'd smear a transparent one from the other bottle and all would disappear form the page (even the guide lines to write).

I wrote with dip pen during my grade school years 1957 till 1962. From 6th grade on we used fountain pens. My friend Marianne who's some years younger than me wrote with a dip pen in first grade to learn with and then they used roller pens. I suppose it depended on whether you lived in a small town or a city.

The exhibition wasn't just about dip pens, there was also all the stuff that used to be in our classrooms a long time ago.  There were Roberval Scales with the weights in a box.

There were tins for measuring capacity, frames with large pictures for geography, history and sciences…  Anatomy, I remember one picture showed a healthy liver and a another showed a liver degenerated by alcohol.  These were for the upper grades.  For the lower grades there were pictures to learn vocabulary and literacy.
Monique works with me on the French and Spanish versions of Mama Lisa's World.  She writes to us from France.
Thanks for sharing that with us Monique!
Mama Lisa
Leave a Reply