YouTube Videos to Help Improve Your French
June 8th, 2016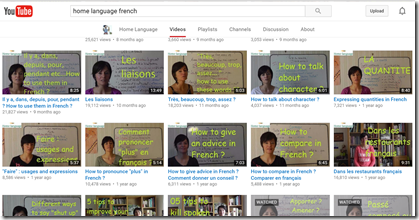 Home Language has some great videos for intermediate to advanced students to help you improve your French.  Patricia from the site Parlez-vous Français covers tricky aspects of the French language such as when to use the subjunctive tense, which idiomatic expressions are widely used, when to use en versus y. The list goes on… As a bonus, the videos are totally in French.
Check it out!
Feel free to let us know which tools you use to improve your language skills in the comments below.
- Mama Lisa
This article was posted on Wednesday, June 8th, 2016 at 2:48 pm and is filed under Countries & Cultures, France, French, Language Learning, Languages, Languages, Learning, YouTube. You can follow any responses to this entry through the RSS 2.0 feed. You can leave a response, or trackback from your own site.
Leave a Reply