A Visit to the Ginkaku-ji Temple & Zen Garden in Japan
June 7th, 2016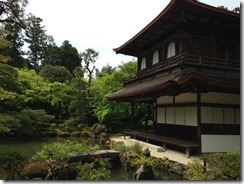 Ayako Egawa wrote to us about her visit to the Ginkaku-ji Temple…
"I went to Kyoto and visited the Ginkaku-ji Temple.
Ginkaku-ji Temple translates as the "Temple of the Silver Pavilion". It's a world cultural heritage site here in Japan.
The Japanese Shogun Ashikaga Yoshimasa commissioned the temple as a retirement home. He was a Buddhist, so he made plans for the structure to become a Zen Buddhist temple after his death.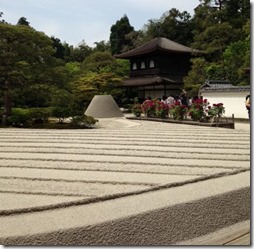 The structure of the temple and its garden are beautiful and impressive. I like the traditional style of Japanese gardens.  The gardens of Buddhist temples are traditionally made for contemplation and meditation.  Rock, sand and gravel are an important aspect of them. The garden at Ginkaku-ji has a massive sand cone named "Moon Viewing Platform". It's said to symbolize Mt. Fuji.
When I visited, the fresh green leaves around the temple area were very beautiful. It was a perfect time to take a walk through part of Kyoto on The Philosopher's Path which starts at the Ginkaku-ji temple.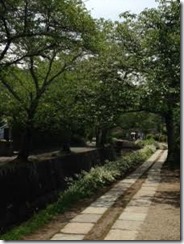 Along the Philosopher's Path there are small shops. In one of the shops, II  got a traditional Kyoto sweet called Yatsuhashi. It's bean paste wrapped in rice paper sheets. Now there are over 20 flavors of it. I chose nikki (cinnamon), sakura (cherry blossom) and green tea which are all very common. Nowadays, young people like the flavors of chocolate, lemonade, strawberry, among others.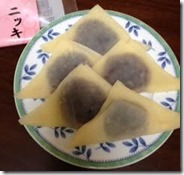 Everyone's taste is different!
I also got chopsticks as a souvenir in a small shop. On the top of chopsticks, they put a design like nail art. It's impressive that the chopsticks are mixture of traditional and modern designs.
I hope you like it!"  -Ayako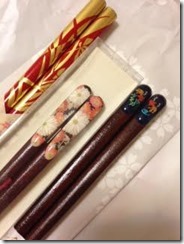 Thanks for sharing info about your visit to the Ginkaku-ji Temple and the Philosopher's Path, Ayako! -Mama Lisa
Here's a Recipe for Yatsuhashi if anyone would like to try it.
Leave a Reply