Torres Strait Island Songs
November 4th, 2016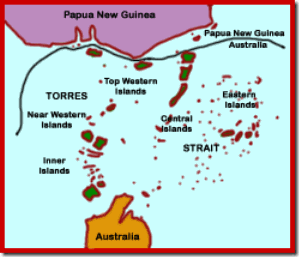 We've added a song from Torres Strait Islands! It's called Taba Naba and it's in the Meriam Mir language. There's a sitting-dance that goes with the song that's fun to learn!
About the Torres Strait Islands
The Torres Strait Islands consists of a group of 274 small islands that lie in the Torres Strait waterway between New Guinea and Australia. Most of the islands are part of the state of Queensland in Australia. They're administered by the Torres Strait Regional Authority. A small number of the islands, those closest to New Guinea, are part of Papua New Guinea.

The native people of the Torres Strait Islands are ethnically Melanesian, they're not part of the Australian Aborigines people. Their population is approximately 4,200.
English is the official language of the Torres Strait Islands. Important local languages include Kalaw Lagaw Ya, Meriam Mir and the English-based Torres Strait Creole.
Enjoy!
Mama Lisa
Leave a Reply