The Tour de France
June 11th, 2020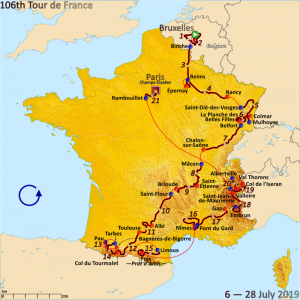 The Tour de France is a bicycling competition for men that first took place in 1903 and has taken place almost every year since then. It didn't take place from 1915 – 1918 due to WWI, and from 1940 – 1946 due to WWII. After the war it started up again in 1947 and continues to this day.
It generally takes place in the month of July.
The race is done in many stages. Nowadays it has 21 stages plus 2 days of rest. Two of the stages are individual time trials.
The route varies each year. It goes all over France, more or less irregularly. Occasionally it makes forays into neighboring countries. It goes through the Alps and the Pyrenees and ends at the Champs-Elysees in Paris.
Thanks to Monique Palomares for sharing with this us! Monique works with me on the French and Spanish versions of Mama Lisa's World.
Image: By Andrei Loas – Own work, Official route of Tour de France 2019, CC BY-SA 4.0,
Leave a Reply