The Japanese Kanji Character of the Year for 2012 is Gold
December 27th, 2012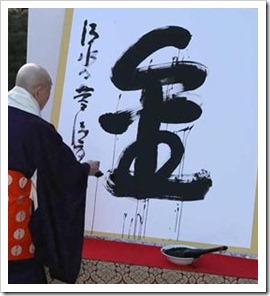 Every year, in December in Japan, a word is chosen that represents that year.  There's a Kanji Character that represents that word.  Kanji are the characters used to represent the Japanese language.  They originally come from China.
The kanji character of the year is unveiled for the 1st time at Kiyomizu Temple each year.
Ayako wrote from Japan:
This year's Kanji character is "gold" 金 (kin).
Many topics related to "gold" happened:
金環日食 – A Solar Eclipse occurred in Japan for the first time in years.
金メダル、- Gold Medals: Japan won a lot of gold medals at the London Olympics this year.
ノーベル賞 – Nobel Prize: Shinya Yamanaka, a Japanese physician and researcher won The Nobel Prize in Physiology or Medicine this year.
Thanks for sharing Ayako!
–Mama Lisa
This article was posted on Thursday, December 27th, 2012 at 6:44 pm and is filed under Countries & Cultures, Customs and Traditions, Holidays Around the World, Japan, Japanese, Languages, New Years, Words & Phrases. You can follow any responses to this entry through the RSS 2.0 feed. You can leave a response, or trackback from your own site.
Leave a Reply