The Carnival Celebration in the Town of the Pailhasses in France – Putting the Politicians on Trial
February 23rd, 2007
In France, Carnival is a big celebration held before the beginning of the Christian fasting season of Lent. In most towns, Monsieur Carnaval is a symbolic figure who is considered responsible for all the wrongdoing people do throughout the year. Usually, he's judged and found guilty, and an effigy of him is burned at the Carnival.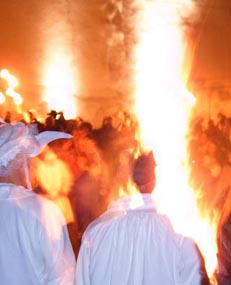 In the town of the Pailhasses in France, Mr. Carnaval is given a different name every year. This year, there were two Mr. Carnaval's, one called "Promises" and one called "Lies". One represented the "promises", and the other the "lies", that the town's governing council had made. In other words, the promises they had made during the election campaign versus what they've actually done since taking office. Both are put on trial. This version of the celebration is specific to this town, as the Pailhasses carnival form is different from elsewhere.
Ah, if only we could all burn effigies called "promises" and "lies" to wipe out all of the wrongdoings of politicians!
Many thanks to Monique Palomares of Mama Lisa's World en français for sharing this story with us!
Lisa
This article was posted on Friday, February 23rd, 2007 at 11:32 am and is filed under Uncategorized. You can follow any responses to this entry through the RSS 2.0 feed. You can leave a response, or trackback from your own site.
Leave a Reply