Sushi Kids
February 26th, 2007
I've noticed that kids many kids now like sushi. At least the vegetarian type you find in New York. Here you can get Avocado Rolls, California Rolls (made with avocados and imitation crab meat) and Kappa Maki (Cucumber Rolls). One of my daughter's friends loves sushi so much, she told me she wants it on her birthday cake!
I think Japanese restaurants should get more creative about making meals specially for kids. They can take a page from the book of Japanese Moms. Check out how they decorate their sushi for their children's lunch boxes!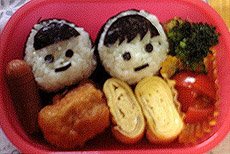 If you'd like to see more of these pictures, you can visit Devon's blog at Head, Shoulders, Knees and All That for a sampling of what Japanese children eat for lunch. They look yummy and funny!
Leave a Reply