Safety Songs for Kids from the 1940's
July 25th, 2011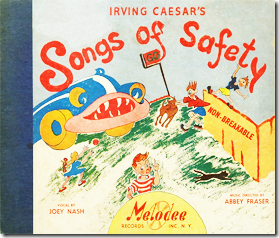 Have you ever heard of Safety Songs?  If you grew up in New York in the 1940's, like our correspondent Richard Stark, I bet you have.  In the New York City school system, teachers would teach them to kids.  Richard remembers growing up singing them.
The Safety Songs that Richard grew up with were written by Irving Caesar in 1937.  Caesar also wrote such hits as "Tea for Two" and "I'm just a Gigolo". 
Here's what the Irving Caesar site stated about the songs:
…to teach children about the potential dangers of everything from crossing the street to playing with matches. Caesar claimed the idea had come to him as he gazed out the window of his office, watching children walk along the streets, blithely disregarding traffic and the warning shouts of their mothers…. New York City Mayor Fiorello LaGuardia [in office from 1934 to 1945] distributed the songs in New York City public school classrooms.
Richard Stark said, "I think people who didn't live in NY City in the 1940s and go to the city schools missed an important part of childhood by not learning the Safety Songs!"
I was already aware of a Safety Song called "Remember Your Name and Address" because many people have written to me asking about it. Richard sent me the lyrics to a few more of the Safety Songs including, "Let the Ball Roll", "A Boy Stood on the Railroad Tracks" and "When You Look Out the Window".
Here's "Let the Ball Roll" to give you a sample of one of these songs…
Let the Ball Roll

Play ball, play ball
Everyone likes to play ball
Sometimes you catch it
And sometimes you miss,
But when you miss, remember this:
Let the ball roll, let the ball roll
No matter where it may go
Let the ball roll, let the ball roll
It has to stop sometime you know.
Sometimes a truck flattens the ball
And makes it look like an egg
Though you can get many a ball
You never can get a new leg.
We're lucky to have a recording of Richard singing this song.  This is authentic New York!
You can listen to more Safety Songs at Kiddie Records Weekly.
Many thanks to Richard Stark for singing Let the Ball Roll and for sharing this little part of musical history with us!
Mama Lisa
This article was posted on Monday, July 25th, 2011 at 4:56 pm and is filed under Children's Songs, Countries & Cultures, England, English, English Children's Songs, Irving Caesar, Languages, People, Recordings, Recordings of Songs, Safety Songs, Songs by Theme, USA. You can follow any responses to this entry through the RSS 2.0 feed. You can skip to the end and leave a response. Pinging is currently not allowed.
25 Responses to "Safety Songs for Kids from the 1940's"
Leave a Reply