Remember Paste?
May 9th, 2010
I was looking for a song in an old magazine from 1950, when I came across a craft project in the magazine.  The article said to "paste" something.  "Pasting" was what we used to call gluing.  It was a thick white glue that came in a plastic jar like the one below.  You'd use a stick to glue something. Nowadays, most kids use glue that comes out of a thin hole from a bottle. (My kids never heard of paste.)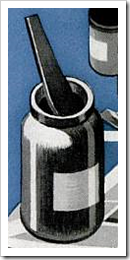 The point here is that I haven't used or seen paste since elementary school!  When I read the word, I could see it and smell it once again.  These are the types of memories I treasure as an adult.  They bring back the feeling of being a young kid.
What reminds you of being a kid?
9 Responses to "Remember Paste?"
Leave a Reply