Remember Paste?
May 9th, 2010
I was looking for a song in an old magazine from 1950, when I came across a craft project in the magazine.  The article said to "paste" something.  "Pasting" was what we used to call gluing.  It was a thick white glue that came in a plastic jar like the one below.  You'd use a stick to glue something. Nowadays, most kids use glue that comes out of a thin hole from a bottle. (My kids never heard of paste.)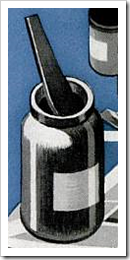 The point here is that I haven't used or seen paste since elementary school!  When I read the word, I could see it and smell it once again.  These are the types of memories I treasure as an adult.  They bring back the feeling of being a young kid.
What reminds you of being a kid?
This article was posted on Sunday, May 9th, 2010 at 8:54 am and is filed under Arts and Crafts, Childhood Memories, Parenting, Paste. You can follow any responses to this entry through the RSS 2.0 feed. You can skip to the end and leave a response. Pinging is currently not allowed.
10 Responses to "Remember Paste?"
Leave a Reply