Recipe for Zucchini Bread (with Oat Flour)
August 5th, 2016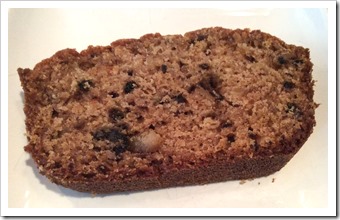 Summer is the perfect time for zucchini bread!
This recipe is made with oatmeal flour replacing half of the all-purpose flour. I like it because it still has a light taste (not heavy like whole wheat flour). Yet oatmeal flour is very healthy! In the recipe below you'll see that the walnuts and chocolate chips are optional. I included the walnuts in both loaves. I added 1/2 cup of chocolate chips to only one of the loaves. It's up to you.
Here's the recipe, it's easy to make!
Recipe for Zucchini Bread
(Makes 2 Loaves)
Ingredients
3 cups Grated Zucchini
1 cup Light Brown Sugar
2/3 cup Granulated Sugar
4 Eggs
1/2 cup Plain Yogurt
2/3 cup Extra Light Olive Oil
1 t. Vanilla
1 1/2 cup Oat Flour
1 1/2 cup All-Purpose Flour
1 1/2 t. Cinnamon
1/2 t. Nutmeg
1 1/2 t. Baking Powder
2 t. Baking Soda
1 t. Salt
Optional:
1 cup Chopped Walnuts
1 cup Chocolate Chips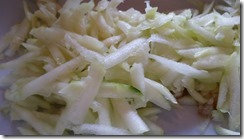 1. Preheat the oven to 350F. Grease two 8 inch loaf pans with butter.
2. Mix together the grated zucchini, light brown sugar, granulated sugar, eggs, yogurt, olive oil and vanilla in a large bowl.
3. In a separate bowl, mix together the oat flour, all-purpose flour, cinnamon, nutmeg, baking powder, baking soda and salt.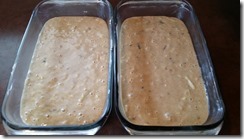 4. Add the dry ingredients to the wet ingredients and mix well.
5. Fold in the walnuts and chocolate chips if using.
6. Evenly distribute the batter into the 2 pre-greased loaf pans.
7. Cook for 50 – 60 minutes, until a toothpick comes out clean when inserted in the middle of the loaves.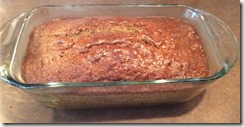 8. Let cool for 10 minutes. Then loosen the bread around the sides of the pans with a butter knife and place on a rack or plate. The bread can be eaten warm. In fact it's delicious that way!
Enjoy!
Mama Lisa
One Response to "Recipe for Zucchini Bread (with Oat Flour)"
where to stay tokyo Says:
August 16th, 2016 at 4:26 am

Oh, that looks really delicious! I will do for the kids and tell you if they liked ;)
Leave a Reply