Recipe for the Best Gluten-free Cranberry Bread Ever!
January 2nd, 2013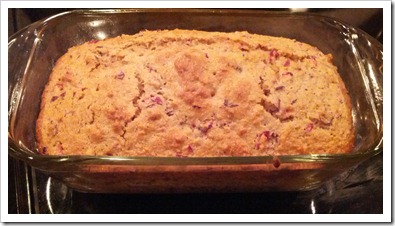 This is the best cranberry bread I've ever had!  My family loves it too.  It just happens to be gluten-free. If you're on a gluten-free diet, please read the labels of your ingredients to make sure they're all gluten-free.
Recipe for Gluten-free Cranberry Bread

Ingredients

1 cup White Rice Flour
1 cup Oat Flour
1 cup Sugar
1 t. Xanthan Gum
1 1/2 t. Baking Powder
1 t. Salt
1/2 t. Baking Soda
1 Egg
1 cup Orange Juice
2 T. Vegetable Oil
1  T . Grated Orange Peel
1 1/2 cups chopped Cranberries
3/4 cup chopped Walnuts

Note: I chop the Cranberries and Walnuts together in the food processor until they're medium chopped.

1.  Preheat oven to 350 degrees Fahrenheit and grease a 9 x 5" bread loaf pan with butter.

2.  Sift both types of flour into a bowl. 

3.  Add the sugar, xanthan gum, baking powder, salt and baking soda.  Mix it all together with a spoon.

4.  Beat the egg and add it to the dry mixture with the orange juice, oil and orange peel.  Mix together well.

5.  Stir in the cranberries and walnuts.

6.  Pour mixture into the pan and spread it out evenly.

7.  Cook for about an hour until a toothpick comes out clean.

8.  Let cool a bit before eating… it's good warm!
Enjoy!
Mama Lisa
This article was posted on Wednesday, January 2nd, 2013 at 7:45 pm and is filed under Autumn, Bread, Countries & Cultures, Cranberry Bread, Fall, Gluten-Free Cranberry Bread, Gluten-Free Recipes, Holiday Recipes, Holidays Around the World, Recipes of the World, Seasonal, Special Diet Recipes, Thanksgiving, Thanksgiving Recipes, USA. You can follow any responses to this entry through the RSS 2.0 feed. You can skip to the end and leave a response. Pinging is currently not allowed.
3 Responses to "Recipe for the Best Gluten-free Cranberry Bread Ever!"
Ethelyn Skibosh Says:
February 2nd, 2013 at 7:14 pm

I would like you to have inspiration in 2013 !! happy new year !

Daniel Says:
April 23rd, 2013 at 6:13 pm

That cranberry bread looks amazing! You're such a good cook :)

Marcus Says:
June 28th, 2013 at 9:08 pm

Great article, eating gluten free has changed my life. Its great to see healthy, yet tasty recipes that are free of wheat. I'm going to have to give this one a try for sure, yum.
Leave a Reply