Recipe for Stewed Apples and Pears
April 18th, 2012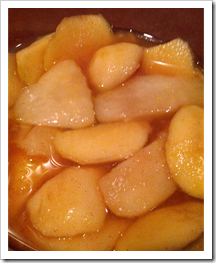 Today I cooked homemade stewed apples and pears.  It's really easy to make, and much healthier than store-bought canned fruit.  It's delish!
You can make this recipe with just apples, just pears or a mixture of both.  I used both in my recipe.

Recipe for Homemade Stewed Apples and Pears
6 Apples or Pears (or a mix of both)
6 – 7 oz. All Natural Apple Juice (I used 1 Juicy-Juice Box)
About 1 – 2 t. Sugar to Taste (I used Turbinado Sugar)
About 1/4 – 1/2 t. Cinnamon to Taste
1.  Peel the fruit and slice it into 1 inch wide slices.
2.  Put it in a small frying pan or pot and mix it with the juice, sugar and cinnamon.
3.  Cook on low to medium heat stirring occasionally until fruit is soft to the prick of a fork.  I took the pears out earlier than the apples so they wouldn't get mushy.
4.  Place in glass bowl and let cool.
4.  Cover and Chill (this thickens the juice and makes it like a syrup).
Feel free to change the recipe to suit your taste.
Enjoy!
Mama Lisa
3 Responses to "Recipe for Stewed Apples and Pears"
Suzan Says:
October 31st, 2015 at 4:50 pm

This is also makes a good pies filling.

Shira Says:
December 27th, 2018 at 9:08 pm

Howdy,
what kind of pears are best for stewing?
thanks
Shira(themustanggirl)

Lisa Says:
December 28th, 2018 at 5:02 pm

Bosc bears are the best for keeping their shape. The 2nd choice would be Anjou pears and 3rd is Bartlett.
Leave a Reply