Recipe for French Onion Soup
January 5th, 2014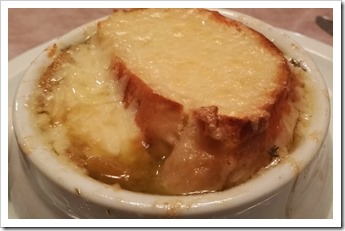 My daughter's been begging me to make homemade French Onion Soup for a couple of months now.  This soup is best served on a cold winter's day.  Now that Cold Man Winter is finally here, I made it!  It's easy to make.  Here's how…
Recipe for French Onion Soup
(Serves 6)
You need oven safe crocks.
3/4 stick of Butter (76 g.)
6 medium/large Sweet Onions (3 lbs.)
1 1/2 – 2 t. Salt
1/4 t. Pepper  
2 t. Sugar
2 quarts Beef Broth
1/2 cup Sherry
1 1/2 teaspoons Fresh Thyme
2 cups White Wine
Worcestershire Sauce
Italian Bread
1 pound Grated Gruyere or Swiss Cheese
1.  Slice the onions.  Melt the butter on medium heat.  Add the onions, sugar, salt & pepper and cook until onions are translucent.
2.  Add broth, sherry, thyme, wine and a couple of drops of Worcestershire sauce.  Simmer for about 30 – 45 minutes.  Add more sugar, salt and pepper as needed.  If it needs more flavor, you can also add more sherry and Worcestershire sauce.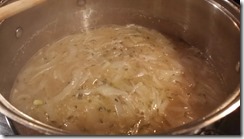 3.  Slice Italian Bread about 1 1/4 inches thick and broil on low in the oven for about 4-5 minutes until crisp.  Flip slices over and broil for another 4-5 minutes.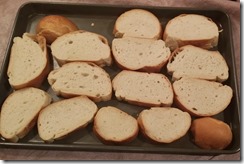 4.  Place soup in oven safe crocks on top of a foil lined cookie sheet.  Add a slice of bread on top of soup and cover with grated gruyere cheese.
5.  Broil until cheese is bubbling and golden brown.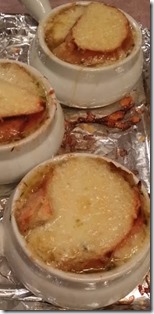 Enjoy!
Mama Lisa
2 Responses to "Recipe for French Onion Soup"
Monique Says:
January 12th, 2014 at 2:26 pm

It's also served at the end of the night when the New Year's party lasts till dawn. It was traditionaly served to the newly-weds in the morning following their wedding night in Western France. In the South-West, they used to be served "lo torin".

Lisa Says:
January 12th, 2014 at 3:00 pm

I didn't know that Monique… thanks for sharing! -Lisa
Leave a Reply