Recipe for the French New Year Sausage and Lentil Dish
February 9th, 2010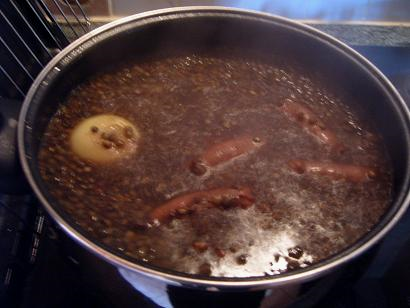 Monique Palomares had previously told us about the lentil and sausage dish they traditionally eat in France for the New Year. She just sent me the recipe. Here's what she wrote:
Sonia explained me how she cooks lentils for New Years…

She browns the sausages (Saucisse de Toulouse). She cuts pork spare ribs into pieces (if you have rinds, add them). Then she browns a whole onion with 2 or 3 cloves stuck in it. She adds 1 1/2 to 2 cups of lentils and a couple of crushed garlic cloves. When browned, she pours enough water to cover it all (the lentils will absorb the water so be careful to put enough). Then she adds salt, pepper and "Herbes de Provence" (optional). She cooks that for 20 minutes in a pressure cooker = one hour in a regular pan (check).

Sonia said: NO tomatoes!

With the left overs (when there are no sausage left): add a beef stock cube and water, heat, and puree. Toast some bread and cut into croutons, et voilà!
My guess is that this recipe will take at least an hour to cook when using a regular pot. (I often make lentil soup and it takes about an hour and a half to fully cook.) Monique didn't have an exact quantity when I asked about the meat. It sounded like the US equivalent would be about one + pound of sausage and about 1 pound of spare ribs.
Many thanks to Monique and Sonia for sharing this recipe with us!
Mama Lisa
This article was posted on Tuesday, February 9th, 2010 at 8:41 pm and is filed under Countries & Cultures, France, French Cuisine, French New Year Lentil Dish, Holidays Around the World, Main Course, Mama Lisa, New Years, Recipes of the World. You can follow any responses to this entry through the RSS 2.0 feed. You can skip to the end and leave a response. Pinging is currently not allowed.
One Response to "Recipe for the French New Year Sausage and Lentil Dish"
Sausages and Lentils are Eaten in France for the New Year | Mama Lisa's World Blog Says:
February 9th, 2010 at 8:44 pm

[…] Monique later sent me the Recipe for the French New Year Sausage and Lentil Dish! Share on Facebook and other […]
Leave a Reply