Recipe for Bavarian Fruit
July 25th, 2009
Monique Palomares, who works with me on the French version of Mama Lisa's World, sent me this blog post and recipe from France…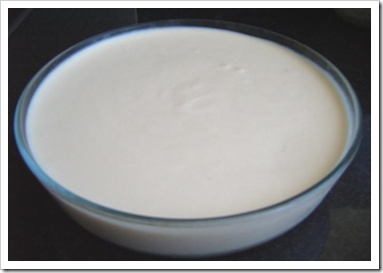 This morning, I made a full cake pan of "bavarois aux fruits" (Bavarian Fruit) for this evening…  it's an easy and cool recipe to make for the summer:
1 liter (4 cups) Fruit Juice of your choice (except pineapple, kiwi fruit, papayas, peaches, mangos, guavas, and figs because the gelatin won't set due to certain enzymes in these juices.)
6 Gelatin Sheets (4 sheets equal the amount of gelatin in the 1/4-ounce packet of Knox powder gelatin found in the US – therefore in the US you'd need 1 1/2 -1 envelopes which should be 2 Tablespoonfuls.)
2 Egg Whites
20cl (7 ounces) Heavy Cream
150g Sugar (2/3 cup)
Vanilla-flavored Sugar (in France it's in 7.5 grams poaches, but I think a couple of drops of Vanilla Extract should do) (Optional)
1) Dip the gelatine sheets in cold water if you're using sheets.  Otherwise, if you're using powder, mix the gelatin powder with the juice.  Warm the fruit juice on the stovetop on low. (If you're using the gelatine sheets add them at this point into the tepid/warm fruit juice).  Do not boil the juice or it will ruin the consistency of the gelatin! Stir until gelatin is dissolved – this should take a few seconds.
2) Allow to cool then put in the fridge long enough for it to be half set.  When it is, beat the two eggs whites in a separate bowl until stiff, add the sugar.  Whip the cream in a separate bowl until foamy and stiff and add the vanilla extract. Gently add both mixtures to the half set mixture of juice/gelatin.  It's better done with a whisk.  Pour the mixture into a glass pie dish.  My cake pan is 12" in diameter and about 3" high (7cm).  Put it in the fridge to set… and voila!
Beware, if you leave it too long outside at dessert time, it'll somewhat melt,  it'll look like a mess you'll need to use a ladle!
Enjoy!
Monique
Note from Mama Lisa: I asked Monique about the consistency of the dessert and she said, "It's less thick than Jell-O. It's more or less the consistency of a mousse, but maybe a little more set. So you must serve it as soon as you take it out of the fridge. Then you can cut it and serve it with a cake server."
Leave a Reply