Recipe for American Irish Soda Bread with Whole Wheat Flour
March 22nd, 2011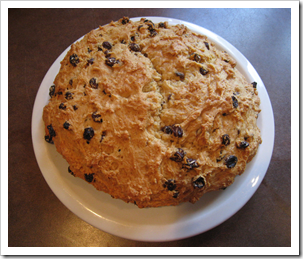 This recipe for American Irish Soda Bread made with Whole Wheat Flour comes very close to the taste of American Irish Soda Bread (made with only multipurpose flour).  It's really good… but healthier than the normal one.
Recipe for American Irish Soda Bread (with part Whole Wheat Flour)
Ingredients

1 cup White Whole Wheat Flour
1 cup Multipurpose Flour
1/2 t. Salt
1 t. Baking Soda 
5 T. Sugar
1 cup Raisins
1 Egg
1 cup Buttermilk
4 T. Melted Butter

Preheat Oven to 350 F.

1. Grease a cookie sheet.

2. Mix together Multipurpose Flour, White Whole Wheat Flour, Salt, Baking Soda and Sugar.

3.  Stir in Raisins.

4. Whisk together the Egg, Melted Butter and Buttermilk.  Then add the wet mixture to the dry mixture.

5.   Stir until combined. It should be sticky and moist.

6.  Pour the batter onto the middle of the cookie sheet making it a round shaped mound about 7 inches wide. 

7.  Take a sharp knife and make an "X" in the center of the bread.

8.  Bake 30 minutes then lower the oven to 325 F and cook for 10 – 15 minutes more.  It's done when a toothpick comes out clean when inserted in the center of the loaf.

Enjoy!

Mama Lisa
This article was posted on Tuesday, March 22nd, 2011 at 4:57 pm and is filed under American Irish Soda Bread, Bread, Countries & Cultures, Holiday Recipes, Holidays Around the World, Ireland, Irish Soda Bread, Recipes of the World, St. Patrick's Day, USA. You can follow any responses to this entry through the RSS 2.0 feed. You can skip to the end and leave a response. Pinging is currently not allowed.
Leave a Reply