Recipe for Corned Beef and Cabbage
March 22nd, 2011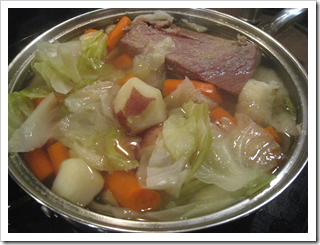 Corned Beef and Cabbage is very easy to make.  The trickiest part is determining the amount of time the corned beef must cook. 
Cooking Time: The amount of time corned beef takes to cook is determined by its weight and thickness.  This year for St. Patrick's Day I made a 2 1/2 pound piece of meat.  (According to The Joy of Cooking, it should have taken 3 hours for a 4 pound piece of corned beef. ) It took my corned beef 4 to 5 hours to cook.  The thin part of the meat (1" thick) was done in 4 hours and the thick part (2" thick) was done in 5 hours.  So plan in extra time for cooking just in case.
Testing for Doneness:  I could tell the corned beef was done because a fork easily slid in and out of the meat.  At 3 hours the fork went into the meat but didn't slide right back out.  It shouldn't be too chewy and it should look like it's starting to flake a little.
Preparing and Cooking Corned Beef:
1.  Rinse off the meat and put it in a pot with enough water to cover.  Bring to a boil.  Once it boils, rinsed off the meat again and put it on a plate while you rinse out the pot.  This will get rid of the froth in the water that was created by the first boil.
2.  Then put the corned beef in the pot again and generously cover it with water.  You can add in the season pack if it comes with one; if not, add 1 bay leaf and 10 – 15 peppercorns.  
3.  Bring it to a boil again.  Then lower to a simmer.  Cover the pot.
4.  Cook for 1 1/2 – 2 hours per pound.  (The USDA says about 1 hour per pound cooking time, but that wasn't nearly enough time for mine.  So at the minimum, plan in extra cooking time just in case.)
Cabbage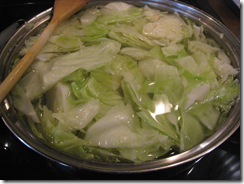 1. Rinse a head of green cabbage and cut into wedges.
2.  Place in a pot and cover with water.  Add a dash of salt.  Bring to a boil.  Then simmer it for about 20 minutes until soft and tasty.
3.  You can add it to the corned beef water for the last 5 – 10 minutes if desired for flavoring.  OR you can cook it with the corned beef the whole time if desired.
Carrots and Potatoes
Many people serve corned beef and cabbage with carrots and potatoes.  Boil the potatoes and cook them until soft.  Then add them in with the corned beef at the end if desired for flavoring.
Steam or boil chunks of peeled carrots until soft and then add to the corned beef pot at the end if desired for flavoring.
Enjoy!
Mama Lisa
This article was posted on Tuesday, March 22nd, 2011 at 5:28 pm and is filed under Corned Beef and Cabbage, Countries & Cultures, Holidays Around the World, Ireland, Irish Cuisine, Main Course, Recipes of the World, St. Patrick's Day, USA. You can follow any responses to this entry through the RSS 2.0 feed. You can skip to the end and leave a response. Pinging is currently not allowed.
Leave a Reply