Reading Foreign Books on the Kindle with a Built-in Dictionary
September 29th, 2010
The Kindle is an Electronic device for reading books.  In my previous post I talked about the Kindle and explained why I love reading on it.
The Kindle works well for reading in foreign languages.  I love reading in French, but the drawback is the time it takes to look up unknown words.  If you read on the Kindle, you can look up words you don't know as you read.  This is great for someone like me, who can basically read French, but has a rusty vocabulary. 
It's a pleasure to simply put the cursor before the word you don't know and have a box pop up with the definition.  See box at the top of the photo below.  (Sorry that the photo's blurry.)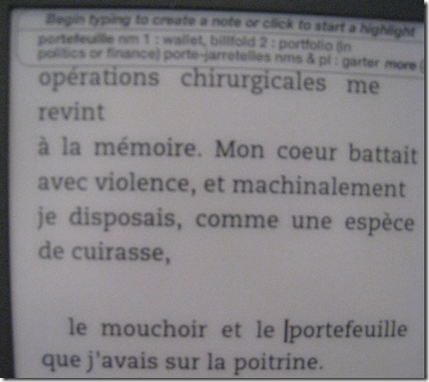 I did have to buy a French-English Dictionary that specifically works with the Kindle.  I only found one choice available.   It's called:
Merriam-Webster's French-English Translation Dictionary, Kindle Edition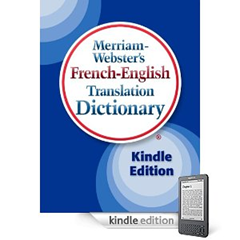 This dictionary costs $6.36.  It's not the perfect French-English Dictionary, but it's fine for what I'm reading now, a book of French short stories.  It has found about 70% of the words I've looked up.
Today I looked up "la redoute".  "Redouter" (to fear) came up.  In this case the dictionary didn't work correctly because "la redoute" means "the fortification".
Better dictionaries in French will be released next year .  I'll buy one when I decide to read more difficult literature.  [One day, I'd like to read Proust in French on my Kindle.  Then I'll need a really good dictionary.]
You can read books with a dictionary in other languages on the Kindle too.  You have to go to the Kindle Store and search for a dictionary in the language you want.  It should give this type of description below to indicate that it will work as a default dictionary on your Kindle:
Product Description

You can set this dictionary as your default Kindle dictionary and look up words while reading. The default setting is The New Oxford American Dictionary included on your Kindle, but you have the option to change your default setting to this compatible dictionary after purchase.
Once you buy and download the foreign language dictionary, you have to make it your default dictionary while you're reading in the other language.  In my next post, I'll explain how to change the default dictionary on the Kindle.
Feel free to share your experiences and advice on using the Kindle or other electronic devices in other languages in the comments below.
Happy reading!
Mama Lisa
This article was posted on Wednesday, September 29th, 2010 at 8:43 pm and is filed under book, Books & Stories, Dictionaries, Language Dictionaries, Languages, Languages, Languages, Learning, Teaching. You can follow any responses to this entry through the RSS 2.0 feed. You can skip to the end and leave a response. Pinging is currently not allowed.
8 Responses to "Reading Foreign Books on the Kindle with a Built-in Dictionary"
Leave a Reply