Ramadan and Eid ul Fitr
December 7th, 2009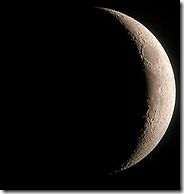 –Fast when you see the new moon and break your fast when you see the new moon…
The quote above is from the Quran and it refers to Ramadan, a Muslim holiday.  During Ramadan Muslims fast for a whole month.
Ramadan takes place in the 9th month on the Islamic calendar. The fasting takes place from sunrise till sunset each day.  People are supposed to abstain from daily evil thoughts and deeds, and also to pray and partake in charity.  Believers are encouraged to read the whole Quran during the course of the month of Ramadan.
Iftar is the meal eaten after sunset each day during Ramadan.  Many people gather as a community to break the fast at night.  People also prepare special meals for Iftar and invite others over and give gifts and charity. 
Eid ul-Fitr is a celebration that marks the end of the month of fasting.  It's the first day of the new month, after the new moon has appeared.  Eid l-Fitr lasts for three days. People typically dress up in their best clothes for the holiday. They will often attend a special Eid prayer.  Then people visit their relatives and often the graves of those who have passed away.  It is important to give charity.  This is called Zakat.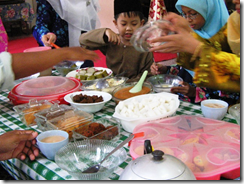 Photo: Eid Ul-Fitr meal, Syefri Zulkefli from Shah Alam, Malaysia
Arabic greetings that are common for this holiday are 'Eid Mubarak ("Blessed Eid") or Eid Saeed ("Happy Eid").
Eid Mubarak – Happy Eid!
Mama Lisa
One Response to "Ramadan and Eid ul Fitr"
The Tradition of Forgiveness and other Customs for Idul Fitri in Indonesia | Mama Lisa's World Blog Says:
December 12th, 2009 at 4:17 pm

[…] recently wrote about Eid'l Fitr, the Muslim holiday marking the end of Ramadan. In Indonesia it's called Idul […]
Leave a Reply