Poems about the Months
January 22nd, 2016
The new year gets us thinking about the 12 months that make up the year to come. Here are two poems that try to get across the feeling of each month.
The first poem is called "The Twelve Months" by George Ellis. In this poem, each word represents one of the 12 months, starting with January.  You can hear it recited and sung below and you can read along with the text…
MP3 Recording of The Twelve Months (Recited)
MP3 Recording of The Twelve Months (Sung)
The Twelve Months

Snowy, Flowy, Blowy,

Showery, Flowery, Bowery,

Hoppy, Croppy, Droppy,

Breezy, Sneezy, Freezy.

Recited by Diana Majlinger
Sung by Ezwa.
Here's a poem by Sara Coleridge called The Months…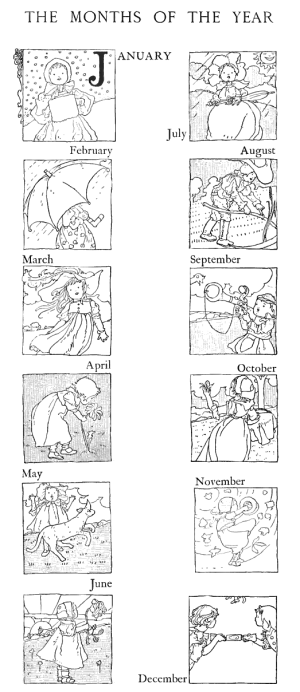 The Months
January brings the snow,
Makes our feet and fingers glow.
February brings the rain,
Thaws the frozen lake again.
March brings breezes loud and shrill,
Stirs the dancing daffodil.
April brings the primrose sweet,
Scatters daisies at our feet.
May brings flocks of pretty lambs,
Skipping by their fleecy dams.
June brings tulips, lilies, roses,
Fills the children's hands with posies.
Hot July brings cooling showers,
Apricots and gillyflowers.
August brings the sheaves of corn,
Then the harvest home is borne.
Warm September brings the fruit,
Sportsmen then begin to shoot.
Fresh October brings the pheasant,
Then to gather nuts is pleasant.
Dull November brings the blast,
Then the leaves are whirling fast.
Chill December brings the sleet,
Blazing fire and Christmas treat.
May each month of the year bring you joy!
-Mama Lisa
This article was posted on Friday, January 22nd, 2016 at 3:20 pm and is filed under Countries & Cultures, England, English, Languages, Poems, Poems about the Months, Poetry, Poetry about the Seasons, USA. You can follow any responses to this entry through the RSS 2.0 feed. You can skip to the end and leave a response. Pinging is currently not allowed.
Leave a Reply