An English Rendition of the Korean Folk Song "Ahirang"
January 21st, 2016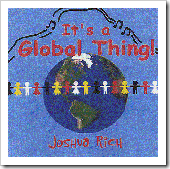 We always love it when modern-day musicians play songs from around the world! Joshua Rich is an extremely versatile musician who has created a multi-cultural children's album called "It's A Global Thing!". One of the pieces he sings is an English version of the Korean Folk Song, Arirang. You can hear Joshua's rendition of the song and read along with the lyrics below…
Ahrirhang

Ahrirhang

Beautiful ahrirhang

Far from towering peaks so high, piercing the sky

I will return to my heart's domain

Never to leave again

Ahrirhang

Ahrirhang
If you're interested in purchasing some of Joshua's music, the track is from his album "It's A Global Thing!" and is available here on his site, along with his other children's album, "Trying Vegetables".
Many thanks to Joshua for sharing his music with us!
Mama Lisa
Joshua Rich is a gifted pianist and performer, in the same breadth of Liberace and Mozart.  Joshua is also a versatile and prolific composer, with many CD's of original music in several genres, including jazz, new age, classical and children's.
Leave a Reply