Play Dough Recipe
October 6th, 2006
My daughter's Kindergarten teacher asked if anyone would like to make home made play dough for the class. It sounded like fun, so of course, I volunteered!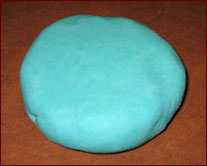 It was very quick and easy to make and not too messy after all. Here's the recipe from my daughter's teacher…
Play Dough Recipe

1 cup All-purpose Flour
1 cup Water
1/2 cup Salt
1 teaspoon Vegetable Oil
1/2 teaspoon Cream of Tarter
Food Coloring

1) Mix the flour, water, salt, oil, and cream of tarter in a saucepan.
2) Cook over medium heat until the mixture holds together (keep mixing or it will stick to the bottom of the pan).
3) When the play dough is cool enough to touch, knead it on a lightly floured surface and add the food coloring. Continue kneading until all of the color is mixed in.
4) Place the playdough in an air tight plastic container and store it at room temperature.
We used Neon Blue and regular Blue Food Coloring and got the nice medium blue color play dough that you can see in the photo above. That's even after my daughter kept adding the Neon Blue (so it's good to know that a lot of Neon Blue doesn't make it too dark. As a matter of fact, we had to add the regular Blue Coloring to make it dark at all.)
If anyone knows a Play-Dough Recipe with metric measurements, or would like to share their experience with using other recipes or with making other colors, feel free to post it in the comments below.
Have fun making your play dough!
Lisa
This article was posted on Friday, October 6th, 2006 at 11:31 am and is filed under Crafts, Mama Lisa, Play Dough Recipe. You can follow any responses to this entry through the RSS 2.0 feed. You can skip to the end and leave a response. Pinging is currently not allowed.
10 Responses to "Play Dough Recipe"
Leave a Reply