Parsley & Goat Cheese Tart
November 3rd, 2019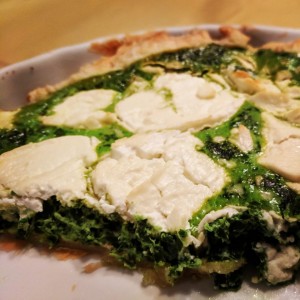 This parsley tart is like a burst of springtime! It's so fresh tasting… yum! It's also easy to make and requires only 6 ingredients + salt and pepper! You'll find the recipe below along with some notes about tart pans and puff pastry dough…
About the Tart Pan
The difference between a tart pan and a pie dish is that a tart pan is more shallow.
Tart Dish: Approximately 10″ Diameter & 1 1/4″ High
Pie Dish: Approximately 9 1/2″ Diameter & 2″ High
If you don't have a tart dish, you can use either a pie dish or a springform pan that's 9 1/2″ – 10″ diameter. The dough should only go up the side by about 1 1/4″. (Read more about alternatives to tart dishes here.)
About the Puff Pastry Dough
You can make your own puff pastry dough or you can buy it premade. I use Pepperidge Farm's frozen Puff Pastry which includes two sheets. You only need one for this recipe. You should defrost it.
Ingredients
Puff Pastry Dough (defrosted)
1 large bunch of Parsley
1 clove of Garlic
2 Eggs
7 oz. Heavy Cream or Crème Fraiche
Salt & Pepper
4 oz. Soft Goat Cheese
Directions
Preheat oven to 355F (180C)
Defrost puff pastry if you're using a frozen version.
1. Butter and flour the tart dish. Press out the thawed puff pastry dough into the tart dish (see note above if you're using a pie dish). You can do this with a rolling pin. I just do it by hand.
2. Clean and dry the parsley and take the leaves off the stems. Place the leaves in a food processor with a clove of garlic and "chop" it up into little pieces.
3. Beat 2 eggs. Whisk in the cream. Mix in the parsley/garlic mixture and a little salt and pepper. Pour evenly into the tart dish.
4. Cut the goat cheese into six – eight 1/3″ slices. Arrange the slices of goat cheese evenly around the top of the tart.
5. Cook on 355F for about 25 – 30 minutes. Until crust is golden and mixture is firm.
Bon appétit!
Lisa
Note: This is based on a French Recipe called Tarte au persil et au chèvre.
3 Responses to "Parsley & Goat Cheese Tart"
Monique Says:
November 8th, 2019 at 8:18 am

I love it! You'll find a recipe to make a quick and easy puff pastry on Chocolate and Zucchini. It's my favorite cooking blog: beside yummy recipes (just try Clotilde's "very ginger cookies"!) you'll find a very useful conversion page (American/metric and ingredients) among other topics. Most of it is in both English and French for those who want to improve their skill in French!

barry Says:
November 8th, 2019 at 7:03 pm

In 1978, I was a kid in elementary school. One class we had was "music" which simply meant pulling out our songbooks and the whole class singing a few of the songs, which I now know were mostly traditional tunes. Don't know if kids still do this or if those days are gone with the wind.

One of the songs that I cannot find any information for on Google, had the following lyrics:

"Now on tiptoe we go, do not make a single sound, then ho-deree-oh, as on we go!".

All I know is, Ms. Labella was the name of the teacher, she 'seemed' Jewish/Italian, and one of her other favorite songs was "Tumbalalika" (popular call-and-response tune). So I tentatively assume this "tiptoe" song was likely Jewish or Italian.

Thanks,

Barry

The Difference between Pies and Tarts Says:
January 14th, 2020 at 7:49 pm

[…] Parsley & Goat Cheese Tart […]
Leave a Reply