Our New Ebook called Mama Lisa's Christmas Around The World is out for the Kindle!
November 14th, 2011
Our first Kindle book, Mama Lisa's Christmas Around the World, is now available on Amazon for just $2.99! Learn how this joyful season is celebrated across the globe. Featuring traditions, songs and personal stories!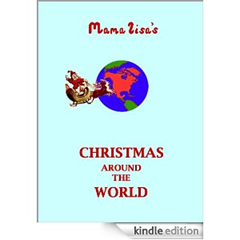 People everywhere love Christmas – but we don't all celebrate it the same way. Mama Lisa's Christmas Around The World is a celebration of the diversity and love with which many different cultures mark this joyful time of year.
The first part of the book covers some of the traditions that take place on days other than Christmas itself, like St. Nick's Day and Epiphany. The second part presents Christmas traditions and songs from many different nations. The songs are given in the original languages and with English translations.
What makes the book really special is the many comments from Mama Lisa's correspondents who have shared stories and memories from their own lives. The memories of childhood touch us forever!
This article was posted on Monday, November 14th, 2011 at 4:14 pm and is filed under Books & Stories, Christmas, Christmas Poems, Christmas Songs, Countries & Cultures, eBooks, English, Holiday Songs, Holidays Around the World, Languages, Mama Lisa, Poetry. You can follow any responses to this entry through the RSS 2.0 feed. You can skip to the end and leave a response. Pinging is currently not allowed.
Leave a Reply