Origami Holiday Tree
December 10th, 2015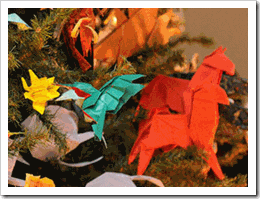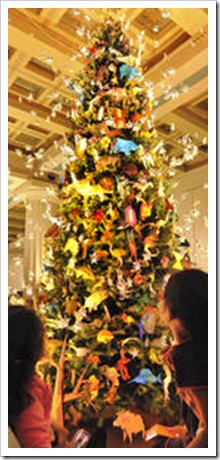 The Museum of Natural History in New York City decorates its holiday tree with origami ornaments each year!
The origami ornaments are made to represent many objects that are in the museum… including dinosaurs!  Origami experts design complex plans to create some of the more complicated figures. Some are so elaborate it can take weeks to make them.  People volunteer from around the world to create these origami figures. Some of the plans are even sent to Japan to be made.
Here's a video showing an origami dinosaur being made…
Here are some links with directions for making holiday and dinosaur origami…
Christmas Origami
Christmas Origami Ornaments
Holiday Origami
Origami Dinosaur Instructions
Directions for a Spinning Origami Dreydl
If you have a chance this year, make an origami figure to hang on your tree. It's really cool and it's homemade!
Enjoy!
Mama Lisa
Leave a Reply