Newborn Traditions in France
February 21st, 2020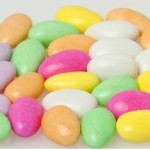 Monique wrote to me that there aren't many customs around the birth of a child in France. When the child is born people give gifts of clothes and accessories… but only once the child is born. There's a superstition that it's bad luck to give anything before the birth.
Jordan almonds (dragées) are given at baptisms. They represent love, luck and happiness.
*****
Monique Palomares works with me on the French and Spanish versions of Mama Lisa's World. -Mama Lisa
Image:  Taken by Evan-Amos. A pile of Jordan Almonds, which are almonds in a sugar coating in pastel colors. These specific Jordan Almonds were manufactured by La Pone. CC-BY-SA-3.0
One Response to "Newborn Traditions in France"
Lisa Says:
September 29th, 2020 at 5:54 pm

Monique later wrote that Jordan almonds are also given at weddings in France.
Leave a Reply