2 Poems for Black History Month
February 21st, 2020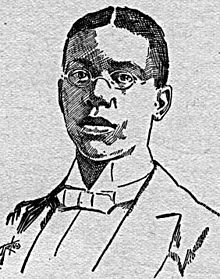 February is Black History Month in the United States. There are two poems by Paul Laurence Dunbar that are particularly fitting to read for the occasion. They're called "Sympathy" (I Know Why The Caged Bird Sings) and "Harriet Beecher Stowe".
Dunbar's parents were slaves in Kentucky before the Civil War. He was born afterwards in 1872. Early on his talents were praised, with his first poem being published at 16. He was also one of the first African-American poets to be widely recognized.
"Sympathy" is the first poem below. It contains the well-known line "I know why the caged bird sings" which poet Maya Angelou used as the title of her autobiography in 1969. The poem can definitely be read to be about slavery. But Dunbar wrote it while working at the Library of Congress where he was cooped up in the intense heat of the summer. He had tuberculosis so it was distressing to be in the heat and around all the dusty books.  So he was also writing about feeling uncomfortably caged up at work. Below you can read the poem and listen to a recording of it.
Recording of Sympathy (I Know Why The Caged Bird Sings)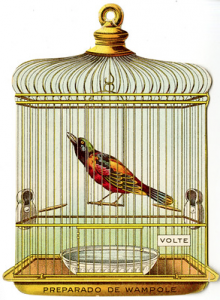 Sympathy
By Paul Laurence Dunbar
I know what the caged bird feels, alas!
When the sun is bright on the upland slopes;
When the wind stirs soft through the springing grass,
And the river flows like a stream of glass;
When the first bird sings and the first bud opes,
And the faint perfume from its chalice steals-
I know what the caged bird feels!
I know why the caged bird beats his wing
Till its blood is red on the cruel bars;
For he must fly back to his perch and cling
When he fain would be on the bough a-swing;
And a pain still throbs in the old, old scars
And they pulse again with a keener sting-
I know why he beats his wing!
I know why the caged bird sings, ah me,
When his wing is bruised and his bosom sore,-
When he beats his bars and he would be free;
It is not a carol of joy or glee,
But a prayer that he sends from his heart's deep core,
But a plea, that upward to Heaven he flings-
I know why the caged bird sings!
Dunbar wrote the next poem about Harriet Beecher Stowe. She was the author of "Uncle Tom's Cabin," a book illustrating the harsh conditions that slaves were forced to endure. The book became very popular and helped energize the anti-slavery movement. Interestingly, Harriet Beecher Stowe met with Abraham Lincoln in 1862. Lincoln greeting her by saying, "so you are the little woman who wrote the book that started this great war." Below you can read the poem and hear a recording of it…
Recording of Harriet Beecher Stowe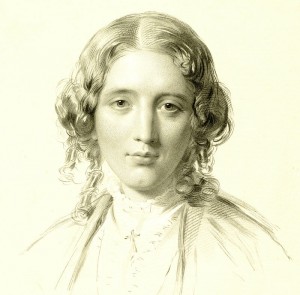 Harriet Beecher Stowe
By Paul Laurence Dunbar
She told the story, and the whole world wept
At wrongs and cruelties it had not known
But for this fearless woman's voice alone.
She spoke to consciences that long had slept:
Her message, Freedom's clear reveille, swept
From heedless hovel to complacent throne.
Command and prophecy were in the tone,
And from its sheath the sword of justice leapt.
Around two peoples swelled a fiery wave,
But both came forth transfigured from the flame.
Blest be the hand that dared be strong to save,
And blest be she who in our weakness came-
Prophet and priestess! At one stroke she gave
A race to freedom, and herself to fame.
This article was posted on Friday, February 21st, 2020 at 9:43 pm and is filed under Black History Month, Countries & Cultures, English, Historical African American, Holidays Around the World, Languages, Mama Lisa, Paul Laurence Dunbar, Poetry, Poets, USA. You can follow any responses to this entry through the RSS 2.0 feed. You can skip to the end and leave a response. Pinging is currently not allowed.
Leave a Reply