New Year's Cuisine in Japan
December 31st, 2014
Sadao Mazuka wrote to me about New Year's food (おせち料理) that's eaten in Japan.
"On New Year's Eve, we ate year-crossing noodles when my sons were young.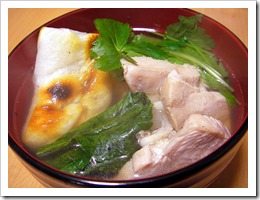 This year on Jan 1st to 3rd, we are going to have 'zoni' and 'sechi' or 'O-sechi'."
Zoni is a soup with either a fish based broth or miso.  A form of mochi rice cake is in the soup.  Vegetables and/or seafood is in it too. It's considered auspicious to eat zoni for the New Year.
Here's a YouTube movie about how to make zoni…
Sadao continued, "In this movie, she is using gobo, burdock root. In my dictionary, European or American people do not eat burdock root. So, how about you?"
[I've never had burdock root here in the U.S. -Mama Lisa]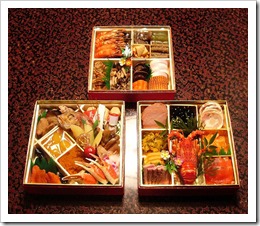 "And 'sechi' or 'o-sechi' is a kind of preserved food that's made in December. It doesn't take much time for housewives to make it in the kitchen on the holiday since they can make it beforehand. So everyone can have a relaxing time and enjoy talking to each other."
Here's a YouTube movie about the New Year's food called 'sechi'…
"We can easily get 'sechi' from the corner delicatessen and in every super-store now. In the old times, I remember my mother made it in December.
People also have 'toso', a spiced medicinal sake (屠蘇) for the New Year.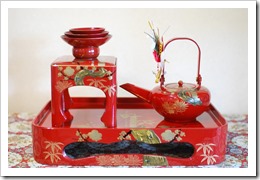 Though I like 'toso', we never serve it because people are coming here by car. 
I hope you and your family have a Happy New Year!
Best wishes!"
Sadao
Thanks so much for sharing your traditions with us Sadao! -Mama Lisa
This article was posted on Wednesday, December 31st, 2014 at 1:19 am and is filed under Countries & Cultures, Cuisine, Customs and Traditions, Holidays Around the World, Japan, Japanese, Japanese Cuisine, Languages, New Year's Eve, New Years, Recipes of the World, Sechi, Symbolic Foods for the New Year, Symbols, Toso, Zoni. You can follow any responses to this entry through the RSS 2.0 feed. You can skip to the end and leave a response. Pinging is currently not allowed.
Leave a Reply