New Year's Resolutions – Lose Weight and Get in Shape with Apps!
January 1st, 2015
It's January 1st, a new year a new you!

Nowadays, it's easier than ever to lose weight and get in shape. There are apps that can help you.
I decided in December to try a weight loss app in advance of the New Year. I found one called LoseIt!  So far I've lost 3 pounds in three weeks.  And that was in the month of December, the hardest month to lose weight!  I ate what I wanted on Christmas but was more careful the rest of the month.  When you track what you eat, it's easier to switch out the bad foods that you realize you don't care much about anyway.
What's nice about LoseIt! is that it's like Weight Watchers, but you don't have to go to meetings and pay a fee.  It also works on most devices: PC, Mac, iPhone/iPad, and Android.  So wherever you are and whatever device you're on, you can quickly note what you've eaten.  It doesn't have to take over your life!
You can also set how much you want to lost and how fast.  Right now I have the app set to lose a pound a week.  I have no interest in being on a harsh diet that I can't keep up! I'd rather lose weight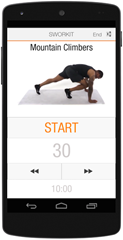 slowly, in a way I can keep it off.
I'm also trying Sworkit, which is an exercise app that gives you a lot of freedom to fit in small amounts of exercise throughout the day or week.  You can choose how long you want to work out and what type of workout you want to do.  There are options for Yoga, Strength and Cardio.  If you only have five minutes, you can choose a five minute workout or stretching session. There are also videos that show you how to do the exercises.
What's wonderful about these apps is that they're free and easy!  So now you can fit exercise and weight loss into your schedule without spending money and travel time.
Good luck!  Here's to a healthier you!
-Mama Lisa
Leave a Reply