Japanese Year-Crossing Noodles for New Year's Eve
December 29th, 2014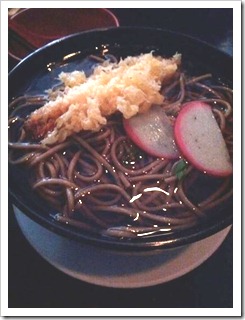 There's an old Japanese tradition,  from over 200 years ago, to eat soba noodles on New Year's Eve.  About half of the population of Japan still follow this custom. The dish they eat is called Toshikoshi Soba or Year-Crossing Noodles.
Sadao from Japan wrote to me about it:
"On New Year's Eve, we would eat year-crossing noodles when my sons were young.
Year-crossing noodles (年越しそば) are not made with ramen nor udon but soba, buckwheat noodles. We can make it instantly with some materials."
The long soba noodles are thought to represent a long life.  Buckwheat, which soba is made from, is a hardy plant, representing resiliency in the New Year. And since it's easy to cut soba noodles, it's thought that you're leaving your hardships behind in the old year and can start the year with a clean slate.
Linda Austin from Moonbridge Books wrote to me about how to make Soba Noodles:
"The broth for the soup is just water, soy sauce, mirin and a bit of hon dashi (savory fish-flavor granules or flakes) and a tiny bit of sugar (especially if you're using bitter veggies like some kinds of bok choy). I put in green onion, spinach or other greens, shitake."
You can find Linda's recipe for Soba Noodles here. You can also watch a video of someone making the soup below…
May you have a long life and be resilient in 2015!
Yoi otoshi o omukae kudasai. 
よいお年をお迎えください。
I wish you a happy New Year!
Mama Lisa
This article was posted on Monday, December 29th, 2014 at 9:01 pm and is filed under Countries & Cultures, Cuisine, Holiday Recipes, Holidays Around the World, Japan, Japanese Cuisine, New Years, New Years Recipes, Recipes of the World, Soba Noodles, Toshikoshi. You can follow any responses to this entry through the RSS 2.0 feed. You can skip to the end and leave a response. Pinging is currently not allowed.
Leave a Reply