My Grandma's Rice Pudding Recipe
June 17th, 2019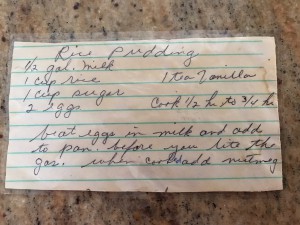 My sister shared my grandmother's rice pudding recipe with me recently. I love that it's in my grandma's own handwriting. This recipe has a delicious custardy taste to it.
Recipe for Rice Pudding
8 cups Milk (1/2 gallon)
1 cup Rice
1 cup Sugar
2 Eggs
1 t. Vanilla
Nutmeg or Cinnamon
1. Beat eggs with the milk and add to a pot with a thick bottom.
2. Add the rest of the ingredients (except the nutmeg/cinnamon) and stir.
3. Cook for about an hour on low heat until the milk is absorbed. You can use a diffuser plate under the pot to keep it from sticking.
4. When it's done place in a serving bowl and sprinkle the top with nutmeg and/or cinnamon. My grandma used nutmeg and my sister used cinnamon.
Many thanks to my sister Gwen for sharing this recipe!
Enjoy!
-Mama Lisa
Leave a Reply