Memories of Basket Cheese and Fresh Bread from Little Italy
October 15th, 2013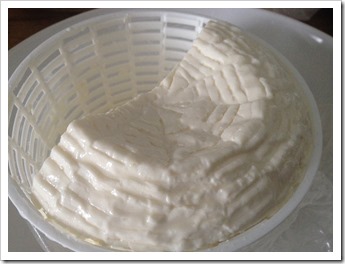 James Knight wrote about how his dad, William James Knight, would go to Little Italy when he was younger and bring back some culinary treats:
My dad made a weekly jaunt to Little Italy to buy bread and other provisions. My mom would wrap the bread and freeze it, and he would pull one loaf out each night to thaw. In the morning it was put in the oven to warm up, it was like bread just bought from the bakery in the middle of the night, freshly baked.

I have fond memories of dad always enjoying a fresh basket cheese he would bring back with him on those runs. He would sit there cutting thin slices and pop them in his mouth. I loved it too. He would say how good it was with some honey and nuts, or a drizzle of good aged balsamic vinegar, but I only ever saw him eat it plain accompanied with a glass of red wine.
Yesterday, I was thinking of his love of fresh basket cheese as I stepped into my favorite Italian specialty store. And there, in the case, was one last fresh basket cheese sitting on a tray. It came home with me and I sat eating it plain like my father did, with wonderful childhood memories for company.
I had never heard of "Basket Cheese" so I asked James what it tastes like.  He wrote:
"It tastes like a combination of ricotta and a very fresh mozzarella. It isn't salty, but if you buy it aged it tastes saltier." 
That's something I'm going to have to try one day.  Thanks for sharing your childhood memories with us James!
-Mama Lisa
This article was posted on Tuesday, October 15th, 2013 at 2:08 pm and is filed under Countries & Cultures, Cuisine, Italian American, Italian American Cuisine, Italian Cuisine, Italy, Little Italy, New York, Recipes of the World, USA, USA. You can follow any responses to this entry through the RSS 2.0 feed. You can skip to the end and leave a response. Pinging is currently not allowed.
Leave a Reply