Mango Time – Caribbean Song with MP3 Recording
November 1st, 2013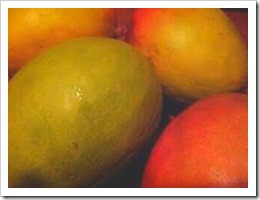 Toby Salmon from the band Kinkajous was kind enough to share a recording of the Jamaican song Mango Time with us.  The recording comes from his new cd called Nursery Rhymes by The Kinkajous. The cd features a collection of 30 nursery rhymes with Caribbean flavor made for little ones and grown ups.
Here's Kinkajous recording of Mango Time followed by the lyrics:
Mango Time
(Jamaican Creole Song)

Mi nuh drink coffee tea mango time
Care how nice it may be mango time
In the heat of the mango crop
When di fruit dem a ripe an drop
Wash your pot turn dem down mango time.
De terpentine large an fine, mango time
Robin mango so sweet, mango time
Number eleven an hairy skin
Pack di bankra an ram dem in
For di bankra mus' full, mango time.

Mek wi go a mango walk, mango time
For is only di talk mango time
Mek wi jump pon di big jackass
Ride im dung an no tap a pass
Mek di best a di crop, mango time.
Check out Mama Lisa's World's "Mango Time" Song Page for a translation of the Jamaican Creole words.
Many thanks to Toby for sharing his recording with us. We wish you the best of luck with the launch of your new cd Toby!
-Mama Lisa
This article was posted on Friday, November 1st, 2013 at 10:59 am and is filed under Children's Songs, Countries & Cultures, Folk Songs, Jamaica, MP3's, MP3's, Music, Recordings, Recordings of Songs. You can follow any responses to this entry through the RSS 2.0 feed. You can skip to the end and leave a response. Pinging is currently not allowed.
Leave a Reply