"Loveliest of Trees" – A Poem about the Cherry Tree with MP3 Recording
April 9th, 2010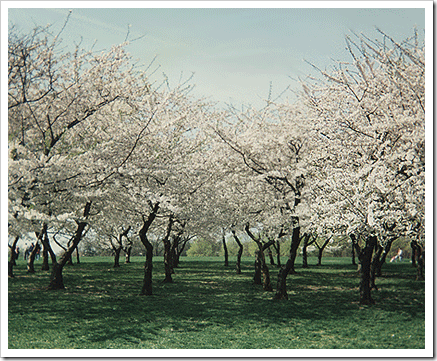 It's cherry blossom season. Here's a poem called "Loveliest of Trees" by A. E. Housman (1859 – 1936).  The poem is about cherry blossoms, the quickness of life, and how now is the time to appreciate what's around you.
"Loveliest of Trees"
LOVELIEST of trees, the cherry now
Is hung with bloom along the bough,
And stands about the woodland ride
Wearing white for Eastertide.

Now, of my threescore years and ten,
Twenty will not come again,
And take from seventy springs a score,
It only leaves me fifty more.
And since to look at things in bloom
Fifty springs are little room,
About the woodlands I will go
To see the cherry hung with snow.
If you get a chance, try to view the cherry trees or other wonders of Spring.  It's rejuvenating!
Mama Lisa
2 Responses to ""Loveliest of Trees" – A Poem about the Cherry Tree with MP3 Recording"
Short Poems Says:
April 9th, 2010 at 6:49 pm

This is soo sweet of a poem :)

Marinela x

David Solmons Says:
April 11th, 2010 at 2:50 am

Hi Lisa
The mp3 link needs to be amended (an e is missing in loveliest).
I used to have a cherry tree right next to my flat – they had to cut it down because it was undermining the block, so this is my first year without cherry blossoms :-(
See my "lament for a cherry tree":
http://www.youtube.com/watch?v=rJmneQHNJPY
(warning, contains scenes of tree destruction)
David
Leave a Reply