"Block City" a Poem with a Picture and MP3 Recording
April 11th, 2010
Here's a poem about blocks by Robert Louis Stevenson accompanied by a drawing by Gracie and an mp3 recording…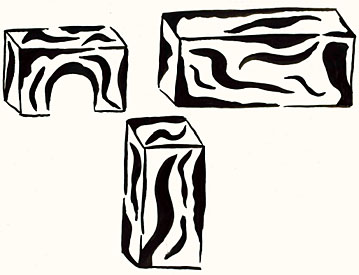 Block City
by Robert Louis Stevenson
What are you able to build with your blocks?
Castles and palaces, temples and docks.
Rain may keep raining, and others go roam,
But I can be happy and building at home.
Let the sofa be mountains, the carpet be sea,
There I'll establish a city for me:
A kirk* and a mill and a palace beside,
And a harbour as well where my vessels may ride.
Great is the palace with pillar and wall,
A sort of a tower on the top of it all,
And steps coming down in an orderly way
To where my toy vessels lie safe in the bay.
This one is sailing and that one is moored:
Hark to the song of the sailors aboard!
And see, on the steps of my palace, the kings
Coming and going with presents and things!
Now I have done with it, down let it go!
All in a moment the town is laid low.
Block upon block lying scattered and free,
What is there left of my town by the sea?
Yet as I saw it, I see it again,
The kirk and the palace, the ships and the men,
And as long as I live and where'er I may be,
I'll always remember my town by the sea.
*Kirk is the Scotch word for church.
Thanks to Gracie for the drawing! Recording by J. M. Smallheer for Librivox.
This article was posted on Sunday, April 11th, 2010 at 12:15 pm and is filed under Block City, Countries & Cultures, English, Languages, Mama Lisa, MP3 Recordings, Poetry, Poets, Recordings, Recordings of Poems, Robert Louis Stevenson, USA. You can follow any responses to this entry through the RSS 2.0 feed. You can skip to the end and leave a response. Pinging is currently not allowed.
Leave a Reply