Le festival de théâtre d'Avignon (Avignon Theatre Festival)
April 30th, 2021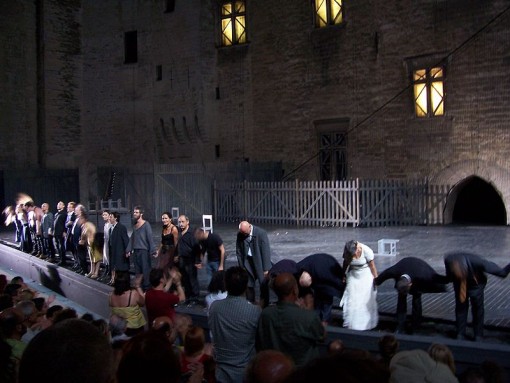 Le festival de théâtre d'Avignon is an annual performing arts festival held in the city of Avignon, France every July. It's held in the courtyard of the Palais des Papes (the palace where the Avignon Pope lived during the 14th century). It's also held at other locals throughout the city.
The "In" festival always take place in the Papal Court of Honor. The "Off" festival is performed mostly by theatre companies and is performed in theaters, schools, streets, and other places suitable for performing. To give you an idea of the size of the festival, in 2019, there were over 1,600 different shows performed in a little more than three weeks!
Image: Eric Lacascade at the Avignon Festival Cour d'honneur in 2006 by Paul Munhoven – Avignon, CC BY-SA 3.0.
Leave a Reply